Best Cache Containers
Most caches are found in Tupperware plastic containers or old Army ammo boxes. Many multicaches place intermediate coordinates in 35mm film cans, which can be very challenging to find. But every now and then, you find a novel, homemade container.
GCB9F - Cat Rock 3D - Weston, MA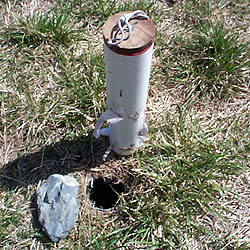 One of my early finds and still my favorite. A 2 foot long, 6 inch diameter PVC pipe with wooden caps that slides down inside a slightly larger buried pipe.
GC5F6A - Willow Watch - Salem, MA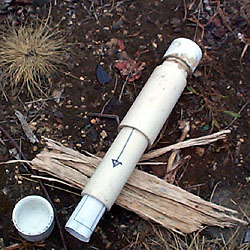 This one inch diameter PVC pipe contains only a single sheet of paper as a log and a pen. The outer pipe is used as a knocker to remove the end-cap.
GC4404 - British American Transatlantic - Weston, MA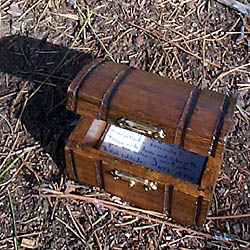 At last, a real treasure chest! This small wooden chest contains the coordinates of the true cache.
GC3C8F - Big X Marks the Spot - Marlbough, MA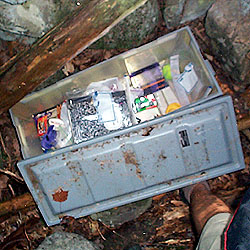 This must be the world's largest geocache container.
Numerous Caches by the Lost Lake Pirates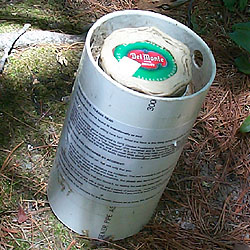 After the Pirates were continuously criticized for using glass Mason jars, they improved on their technique by sealing the jar within a PVC pipe.

TOP